If the European trend in museums is to stimulate more and more visitor interaction, Mestre's M9 is fully on board! This museum, with its futuristic architecture, allows visitors to experience the main events of Italian 20th-century history through augmented reality and other cutting-edge technology.
The first thing that strikes you about M9, and which makes a visit absolutely worthwhile, is its architecture, combined with the smart city concept that underpins planning in the entire district.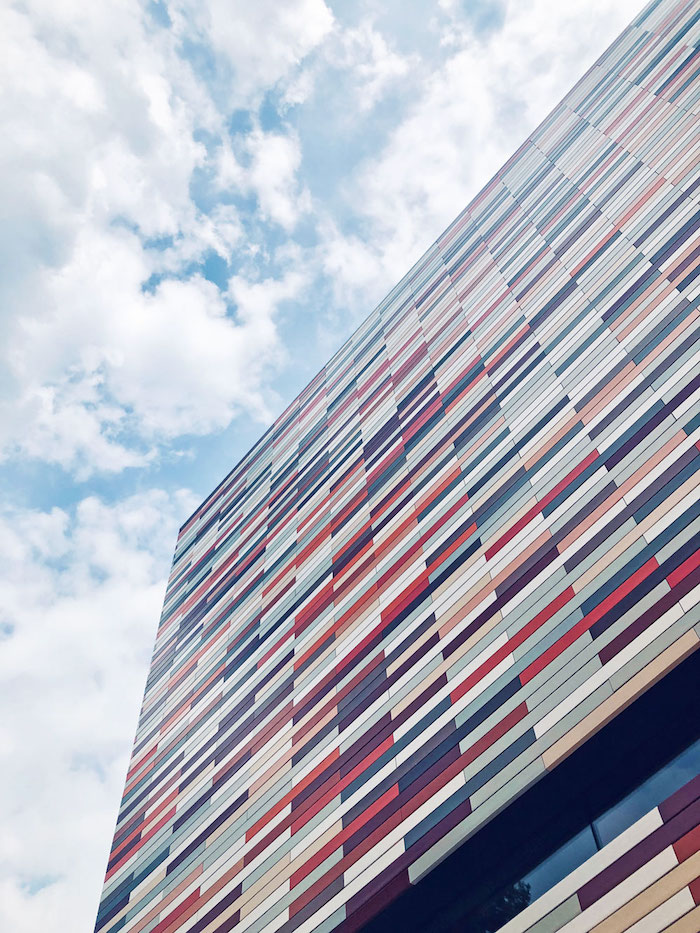 M9 museum architecture
Designed by the firm Sauerbruch Hutton, Mestre's M9 will be one of the first Italian districts to obtain Gold LEED (Leadership in Energy and Environmental Design) certification for sustainability.
Sustainability and innovation are certainly key for the futuristic architecture of this Italian museum of the 20th century, but that's not all it's about!
The interior has been made of trachyte stone, enabling visitors to go on a continuous, uninterrupted journey. It's equipped with photovoltaic panels that produce 86,000 kWh and 63 geothermal heat pumps that provide a guaranteed 100% of the museum's heating and 40% of its air conditioning. The aim for Sauerbruch Hutton was not only to create an aesthetically pleasing building, but also an energy-efficient one that would integrate perfectly into the urban fabric and enhance it.
The first thing that attracts visitors as they arrive is the 13 colours used for the 20,000 ceramic pieces that make up the façade. These pieces are interrupted by large windows and the overall effect undoubtedly makes this one of the most photogenic museums in Europe.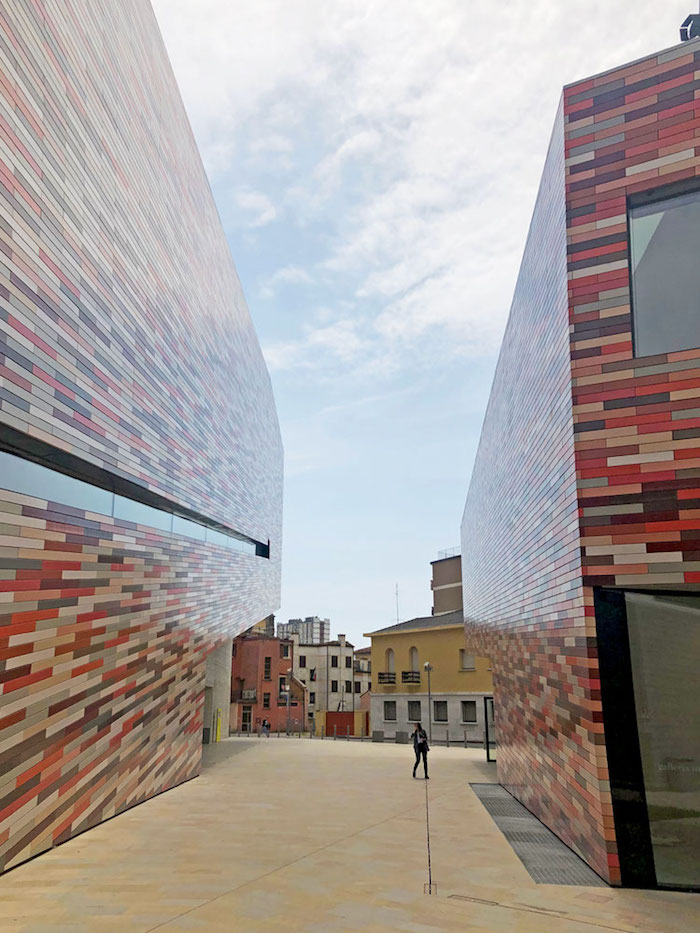 M9 museum in Mestre itinerary
"Immerse yourself in a multimedia experience as you travel through the past, understand the present and imagine the future."
The M9 museum itinerary could be summarised as follows: an interactive story of one of the most important centuries in Europe, enhancing awareness among visitors. This can only be done with a lot of user involvement to revive the different decades that characterised the 20th century.
The permanent exhibition comprises eight thematic sections:
How we were and how we are. Demographics and social structures, which shows how the Italian population and family structure have evolved in light of the external events influencing these factors.
The Italian way of life. Consumption, customs and lifestyles, in which visitors can take a journey through time, looking at Italian lifestyles and consumption habits.
The race for progress, science, technology and innovation, in which the major Italian technological developments are displayed and can be assembled and disassembled using interactive panels.
Money, the economy, work and well-being, which depicts the process of modernisation of the Italian economic system, with all its contradictions.
Landscapes and urban settlements, which is a review of the urban development of major Italian cities.
Public Affairs, the State, Institutions and politics, in which video installations trace the main political events in Italy.
Making Italians: education, training and information, in which we return to the moment in which Italy was unified, when the first thing to do was to teach and promote the use of a single language: Italian.
Recognising ourselves; what it is to feel Italian, which explores the commonplace, stereotypes, habits, mannerisms, sayings and ways of doing things.
In addition to the permanent exhibition, M9 museum in Mestre also hosts temporary exhibitions. One of the biggest temporary exhibitions since the museum opened has been "L'Italia dei fotografi. 24 autori in mostra al M9 di Mestre" (Photographers' Italy. 24 photographers on display at M9 in Mestre).
A few months after the opening, there have been a whole host of different opinions on Mestre's M9 museum, particularly from art critics. Whatever your opinion, though, the museum is certainly worth a visit, both for its architecture, which stands out on a European level, and to retrace Italian history through an unusual and innovative visitor journey.
One last tip: the museum is suitable for the whole family and even the youngest members of your group will find some intriguing ideas inside.