Reading Time:
4
minutes
Bari is one of the most fascinating destinations in Southern Italy, offering a perfect combination of nature, culture and excellent culinary tradition. In most guides you'll find advice on visiting Bari Old Town, but here we'd like to tell you about contemporary Bari and some of the surrounding towns that are sure to scratch the contemporary art itch of any art addict!
Contemporary Bari: museums, galleries and street art
Caressed by the Adriatic Sea, Bari is a city full of traditions that will have you falling in love at first sight. It's also packed with places to visit just a stone's throw from the centre. In this little guide to help you discover contemporary Bari, we wanted to show you some places that you simply cannot miss if you love exploring gems of authentic creativity.
Spazio Murat
Let's start with Spazio Murat, which is one of the most admired cultural spaces in the city, dedicated to promoting and disseminating contemporary culture. Together with the former Teatro Margherita and the former Fish Market, this space is an emerging centre for contemporary art and culture in the city of Bari. The space also hosts Puglia Design Store, which offers a range of activities, including exhibitions, workshops, meetings and sessions aimed at children, with a specific focus on visual arts. According to the city's local residents, what makes this place unique is the fact that it represents the meeting point between Bari Old Town and the new town.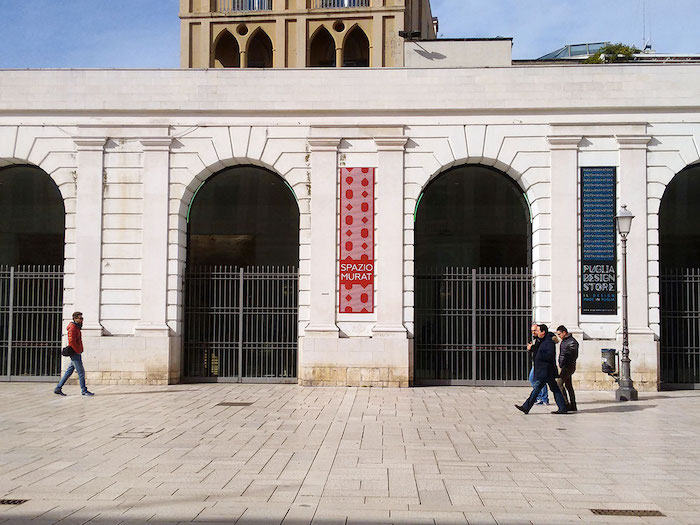 Galleria 206
Galleria 206 – The Unknownow Gallery is a space dedicated to contemporary art, located in a former vehicle body shop in the San Pasquale district, near the city's central station. A group of street artists and entrepreneurs decided to give free rein to creativity here, and they did it in style. The space is huge and has been divided into different areas, measuring a total of 380 square metres (4,000 sq. ft). The venue plays hosts to events, projects and exhibitions, encouraging dialogue and constant reflection on the art scene. The goal of the founders over the next few years is to bring artists of international renown to 206, building an increasingly contemporary Bari!
Street art in Bari
Bari is a city in which artistry is expressed through many different languages. One such language is the street art that has seeped into many neighbourhoods in the city centre and beyond. Some of the most famous works include:
Pao's Lego designs, which can be found on the walls of the kiosk in the Piazza Garibaldi garden and at the entrance to Aquiloni park.
Mauro Roselli's St Nicholas, which is on a council housing wall in Viale delle Regioni in the San Paolo district.
The triptych of St Nicholas, patron saint of the Apulian capital, created by Ozmo in the Via Quintino Sella underpass.
Pino Pascali Museum Foundation in Polignano a Mare
Travelling about 40 km (25 miles) from the city, you'll come to the enchanting Polignano a Mare, a small town famous for its beautiful beaches and the Pino Pascali Museum Foundation. One of the most popular places among lovers of contemporary art, the museum is dedicated to the Apulian artist who was among the forerunners of Arte Povera, body art and conceptual art. Founded in 2010, the Foundation is located in the former municipal slaughterhouse, just to the south of the promenade. It's the only permanent contemporary art museum in Apulia and, alongside the permanent collection, which includes many of Pascali's most famous works, it's also hosts international temporary exhibitions and is home to the Pino Pascali Award.
PhEST in Monopoli
A little more than 40 kilometres (25 miles) from Bari, in Monopoli to be precise, there's an unmissable event for art addicts passionate about photography. It is, of course, none other than PhEST. The theme of this year's edition of this international festival of photography and contemporary art, born just four years ago, is Religioni e Miti (Religions and Myths). It opened its doors on 6th September. Always current, provocative, intense and in touch with the cultural and social revolutions of today's world, PhEST has a great ability to interpret the world of yesterday and imagine the world of tomorrow through unforgettable images. The event also features a special site-specific project that PhEST commissions a different photographer to produce each year. This year is the turn of Flemish photographer Sanne de Wilde, who recently won the World Press Photo competition for her part in the collaborative project "Land of Ibeji", which she produced alongside the photographer Noor Benedicte Kurzen.
Contemporary Bari and its surroundings are the perfect destination to experience authentic Italy and to discover great masterpieces of contemporary art. You'll find that you can't help but feel inspired by this winning mix of creativity and tradition.