When we think about a pilot, we don't think about an everyday person. A pilot has specific knowledge, he's in perfect shape, and has more responsibilities than most professionals. Without of course belittling doctors, nurses, engineers and architects, judges and lawyers, volunteers, soldiers, teachers…There's a magical halo around pilots: a pilot can literally fly.
It's not surprising that flying is a passion shared by many celebrities, actors who are able to and need to move around the world.
The Hollywood pilot par excellence is John Travolta, owner of a variety of aircraft among which a Gulfstream, a Learjet and a Boeing 707. His house in Florida is a veritable airport with two runways and a hangar, so that he can get to the set quickly and autonomously. A bit over the top? Profligate? Never judge by appearances. The dancer icon landed in Haiti with his private jet in 2010, carrying a group of 80 doctors, volunteers, first-aid supplies and drugs to help Haiti's earthquake ravaged population.
What about Angelina Jolie? The actress, a UNHCR ambassador for many years now, is an experienced pilot with a private pilot's licence since 2004. She flew a plane over the desert in Namibia in the recent ITV documentary The Queen's Green Planet, commenting on the impact of climate change and environment protection. Here's how she explained the reason for her pilot's licence: "I want to be a superhero for my son".
Morgan Freeman got his pilot's licence when he was 65 years old. Freeman decided that it's never too late to learn to fly, tied as he still is to his past as a mechanic in the U.S. Air Force where he had enlisted in 1955. Today he owns a Cessna 414 and a Citation 501.
Listing all celebrity-pilots could last forever: Clint Eastwood, Harrison Ford, Tom Cruise, Dennis Quaid, Hilary Swank and even the Brazilian supermodel Gisele Bündchen.
But among the planes we like best we have to mention Iron Maiden's Ed Force One! ☺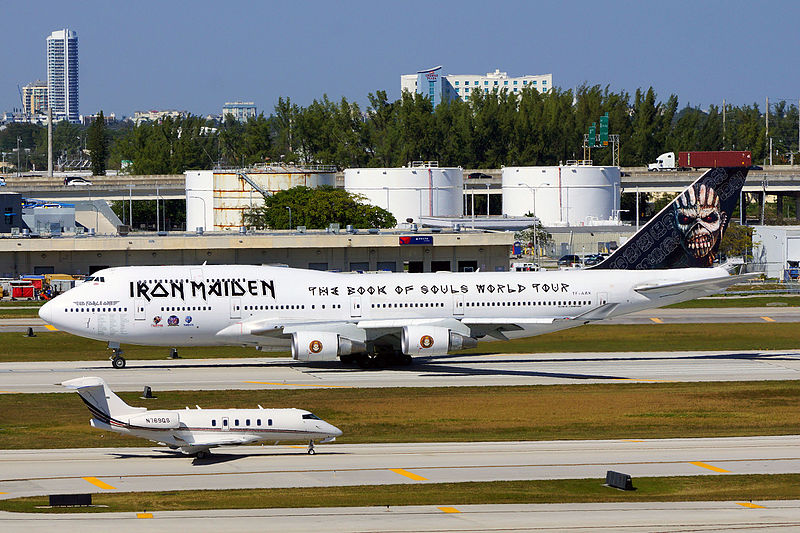 The British heavy metal band used two different aircraft showing the "Iron Maiden" logo in big letters on the fuselage on their round-the-world tour. A Boeing 757-200 in 2008, 2009 and 2011 and a Boeing 747-400 in 2016, where they put all the names of their Fan Club members on the front landing gear door!
(header photo: John Travolta by Konstantin von Wedelstaedt / wikimedia commons)