Reading Time:
2
minutes
We'd like to dedicate today's article to all those women who've ever been told:
'Forget about it, that's boy stuff'
Rosina Ferrario was born in 1888 into a wealthy family in Milan.
Those were the years of the Industrial Revolution and the Italian National Exhibition, where all the most advanced industrial and trade productions of the new Kingdom of Italy were exhibited. Her friends, the well-educated daughters of the Milan bourgeois, loved dresses and parties. She, however, preferred 'boy stuff' such as mountain hiking, sports, cars and, of course, aeroplanes.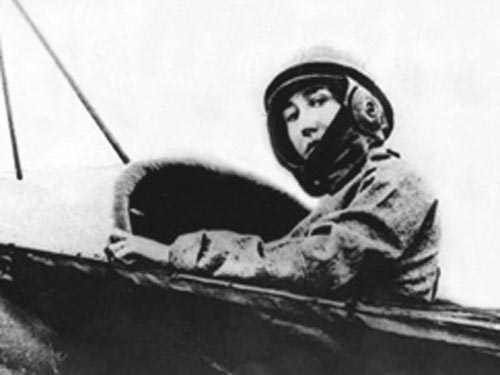 Rosina started taking flying lessons at what was Milan airport until the '30s, the airfield in Taliedo, at the time known as the Aerodromo d'Italia.
Rosina obtained her pilot's licence, number 203, at the Aviation School in Vizzola Ticino directed by the aviation pioneer Gianni Caproni.
On 3 January 1913, the first Italian woman to become a pilot got her licence
Ferrario rose to fame in the years that followed, taking part in aviation events and flight demonstrations throughout Italy.
Her presence was in great demand: she flew on an aerostat with Erminio Donner Flori, taking breath-taking photos with a Kodak. She also let a shower of red carnations fall on the crowd of the Aviation Meeting in Naples, flew over Bergamo when King Vittorio Emanuele III visited and performed in a Caproni aircraft at the commemoration of the composer Giuseppe Verdi.
Rosina Ferrario's name reached Carlo Maria Piazza, one of the most famous and fearless aviators of that era, who wrote her a 'heartfelt best wishes' card:
'My warmest congratulations, Miss, but I'd rather know you as a mother than as an aviator'.
The shocked reaction from feminists brought Rosina even more success and in subsequent years her figure went on to inspire many passionate male and female aviators.
When the First World War came along, it brought with it the harsh reality of Rosina's refused requests to enlist as a pilot in the Red Cross, in the Volunteer Pilots and in the Air Corps.
'Ladies cannot enlist in the Royal Army' the then War Minister Vittorio Italico Zupelli replied to her.
That was when Rosina chose to stop flying and retire with her husband to enjoy her much-loved mountain hikes.