Reading Time:
3
minutes
What does being a pilot mean? And how do you become a pilot?
We asked these questions to Captain Marino Palla. With 16,000+ flight hours, he's been a pilot for Air Dolomiti since 1997, a flight instructor since 2000 and Director of the Verona Aeroclub School since 2013.
When did you first develop a passion for flying?
I was born in Rapallo in 1969. One summer's day, there was a big fire on the hills around the town and a fire-fighting Canadair 215 was called to help. My father took me to see the aeroplane landing at sea to collect water a few meters from the promenade. That's when I decided that I wanted to become a pilot.
When and how did you obtain your airline transport pilot licence (ATPL)?
First I attended the Aeronautical Technical Institute in Forlì, then I joined the Italian Air Force as a reserve officer. After a period of time in the armed forces, I worked as an air traffic controller and was able to pay for the necessary licences to become a commercial pilot. After that, I worked for three air taxi companies and on 27 October 1977 I started working for Air Dolomiti.
Many readers ask us for information about the Type Rating: can you explain how this 'specialisation' works?
As you know, to become technically qualified, pilots need to obtain several licences and qualifications as well as learn a lot of theory. After the ATPL theory test and obtaining a licence as a commercial pilot, you can then apply to an airline*. Once accepted, the new pilots start an additional 'specialization' course that specifically focuses on the aircraft they'll be using. The goal is to learn all the theoretical and practical skills in order to serve as a flight crew member on that type of aeroplane. This is called the Type Rating.
*Air Dolomiti offers these training courses for free to young pilots who already have a pilot's licence and who have passed the direct entry recruitment process.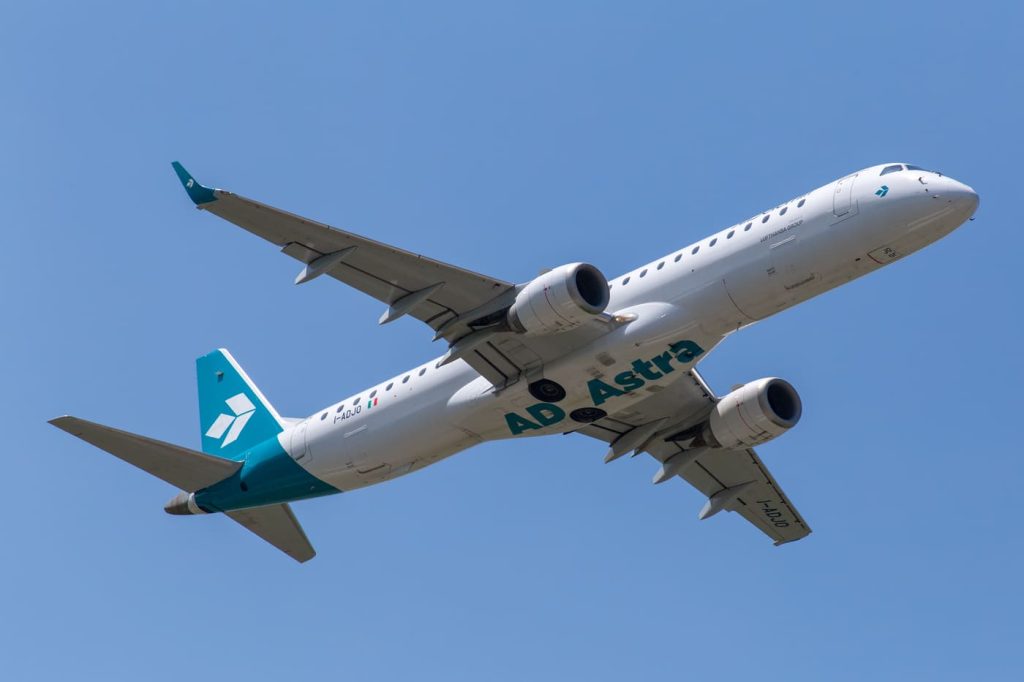 What are the features of the Embraer 195 aeroplanes in Air Dolomiti's fleet?
Embraers are modern aeroplanes. The first prototype, the EMB 110 Bandeirante, flew in 1972. The Embraer 195 models that we use are high-performance aircraft, they excel in terms of cruising speed and climb rate. Since they are equipped with state-of-the-art avionics, they are also 'easy' to manage and pilot. In the past, aeroplanes needed more operations performed by the pilot, whereas today they are equipped with numerous automated systems. For example, the automatic anti-ice system and an automatic landing option support us in our work, guaranteeing safety even in low visibility and challenging weather conditions.
What's your favourite route?
Any route I haven't done yet! It's always nice to dream of seeing new horizons and landscapes, getting to know new people and customs.
Which route has the best view?
Since I love the mountains, I always enjoy flying over the Dolomites, which also happens to be where our company gets its name from. In particular, flying over the Alta Badia always opens up new perspectives, and I can spot the ski slopes and trails I usually do in the winter and summer. And each season provides a different show.
What's your advice to future airline pilots?
Working as a pilot is considered to be one of the few 'romantic' jobs left. But that's not a good reason to decide to become a pilot.
I always tell my students that they have to be very, very motivated. It's a demanding career path that requires a lot of study and sacrifices. It's nothing like learning at school. Here we have databases with 12,000 questions just to prepare for the ATPL theory tests, then there's books, manuals, navigation charts, checklists and much more.
My advice is to be willing to commit both mentally and physically, to manage your emotions, learn self-control and always have a positive attitude towards situations and people.
And what traits should a future pilot have?
Determination, an aptitude for technical subjects and to have a certain passion for geography. When I was at school, for example, I used to spend my time pouring over atlases – I already had a strong desire to explore the world.